How to Use Binomo App on iPhone/iPad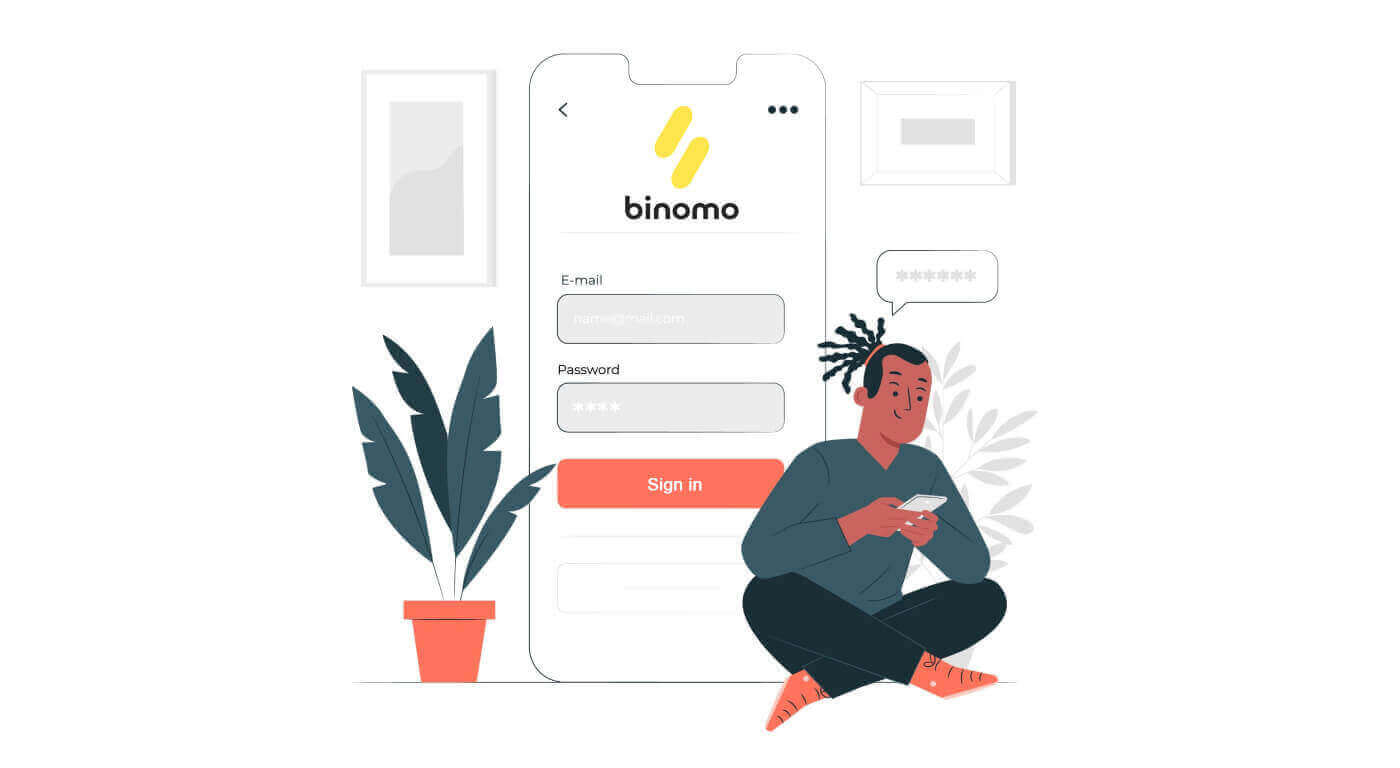 Download Binomo iOS app
To begin with, you need a Binomo iOS app on App Store in order to trade on your iPhone or iPad. It is really comfortable to use your phone to trade, because your phone is always at hand. iOS app doesn't have any certain differences from the Web version. All indicators, graph types and other tools are the same in iOS app and you can use them just as you would use them on the Web version.
It is very easy to install the Binomo iOS App. In order to do this, you need to complete these steps:
Go to the AppStore
Search for "Binomo: Smart investments"
Press "Download" button
Launch App.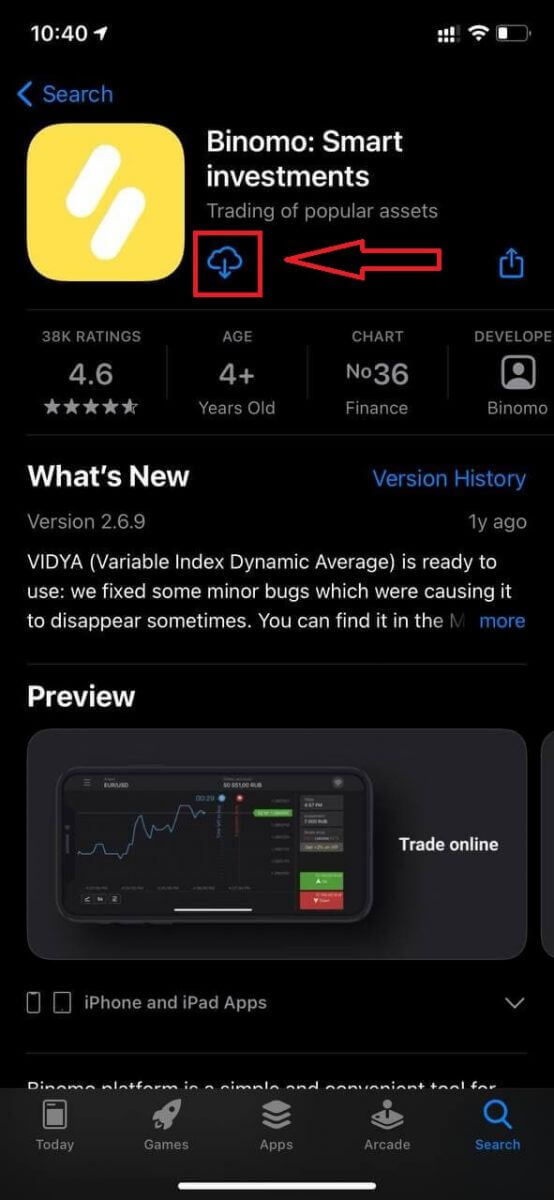 Register on Binomo iOS mobile platform
Registration for the iOS mobile platform is also available for you. Click "Sign up" and follow these steps below:  
Enter your email address and new password
Select the currency of the account        
Read and agree to Terms of Service and check it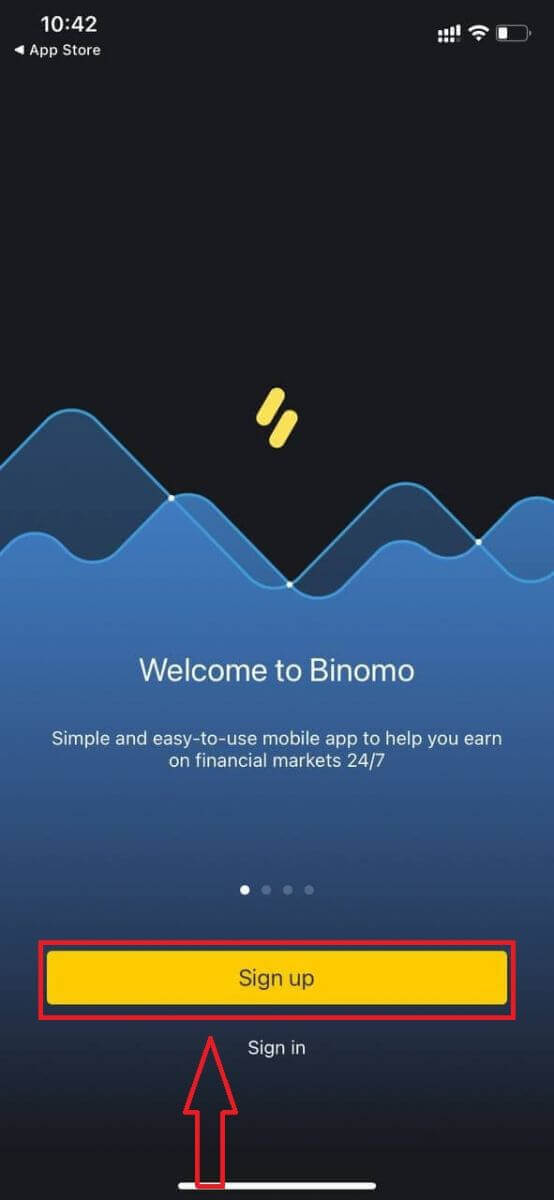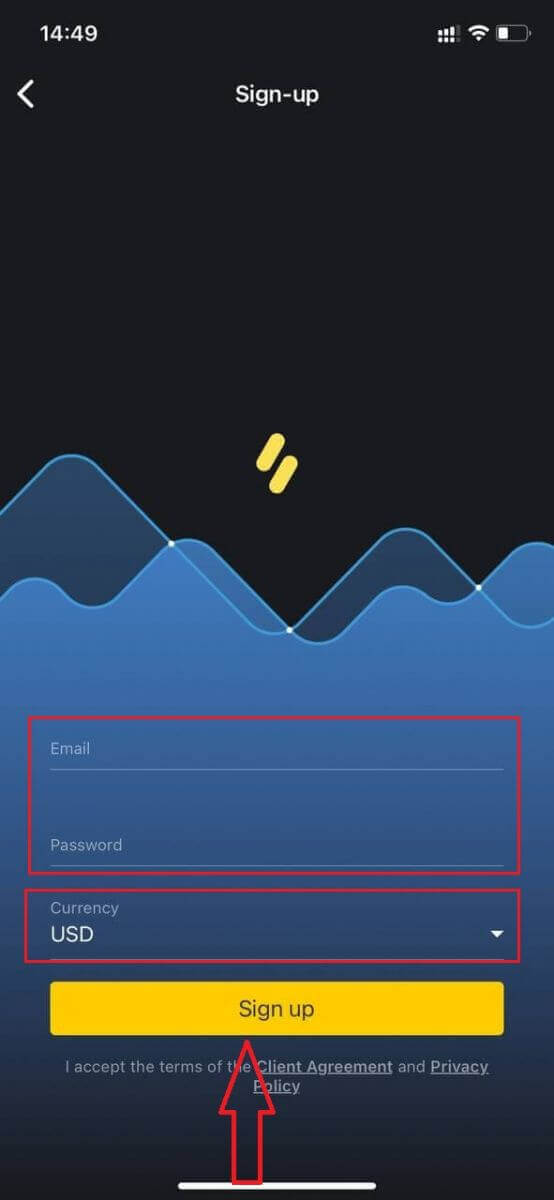 After that a
confirmation email
will be sent to the email address you entered.
Confirm your email address
to protect your account and unlock more platform capabilities, click
"Confirm email"
button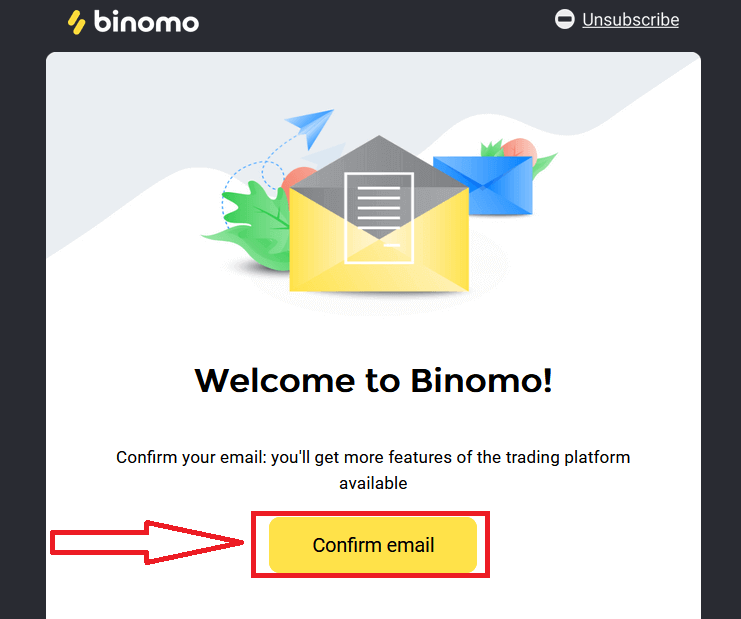 Now you are able to log in to start trading.
You have $1,000 in Demo Account,
you can also trade on a real or tournament account after depositing.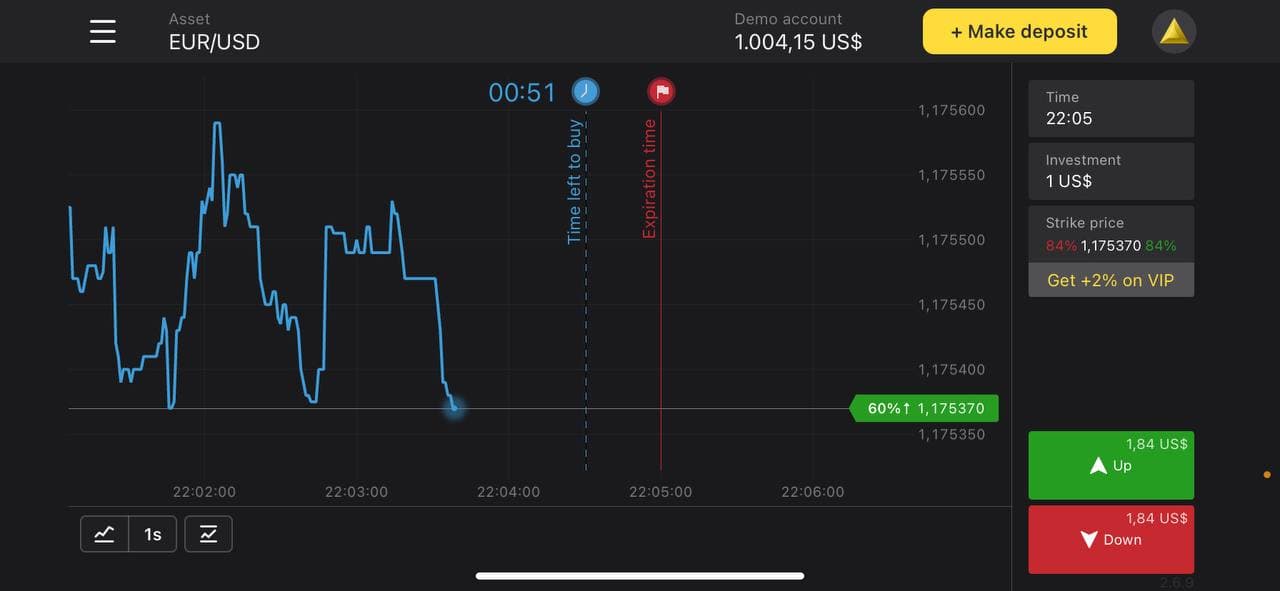 How to Deposit Funds on Binomo iOS app?
First of all, it is really simple to make a deposit in Binomo iOS app. Here is what you should do in order to make your deposit:
Press on the "+ Make Deposit" yellow button, which is located in the top right corner of the screen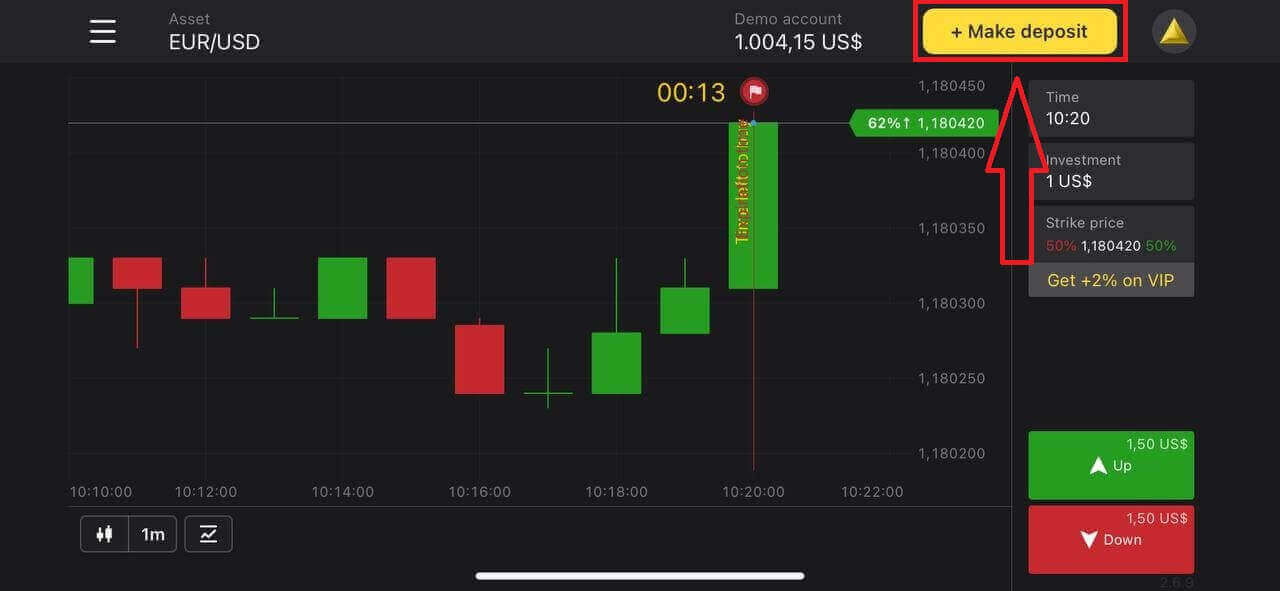 Then you will be redirected to a "Choose payment method" menu, where you have to choose your country and select your payment method. You can make a deposit using these methods: MasterCard, Maestro, Visa, Neteller, Perfect Money, Payeer, Jeton Wallet and others, depending on your country.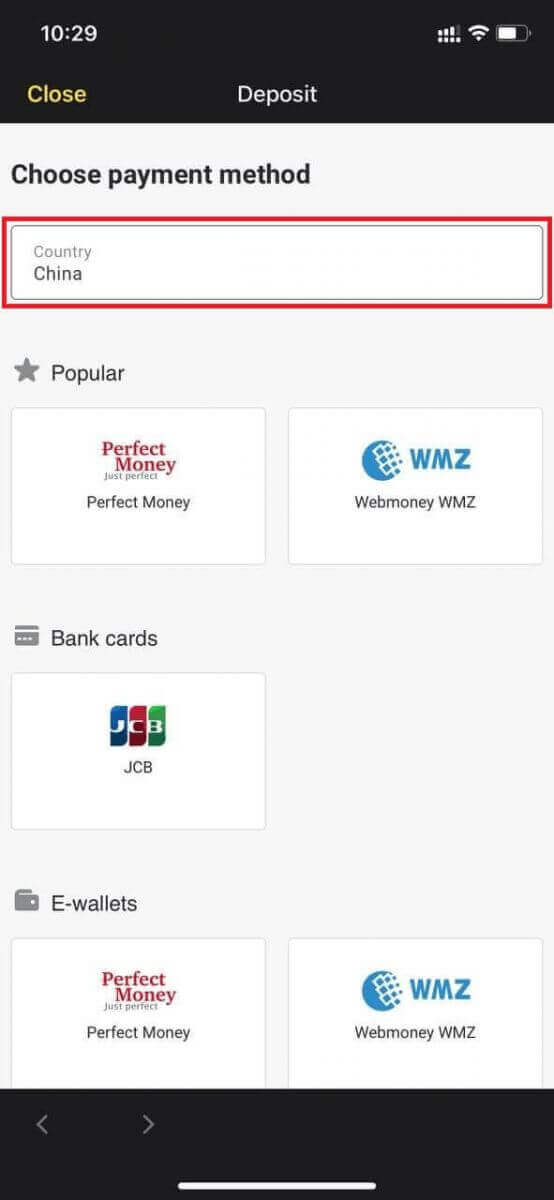 Once you have chosen your country and payment method you will be redirected to a "Choose amount" menu. Here you need to select an amount you want to deposit or enter your own amount. In addition, you can choose to have a bonus. Then press the "Deposit" button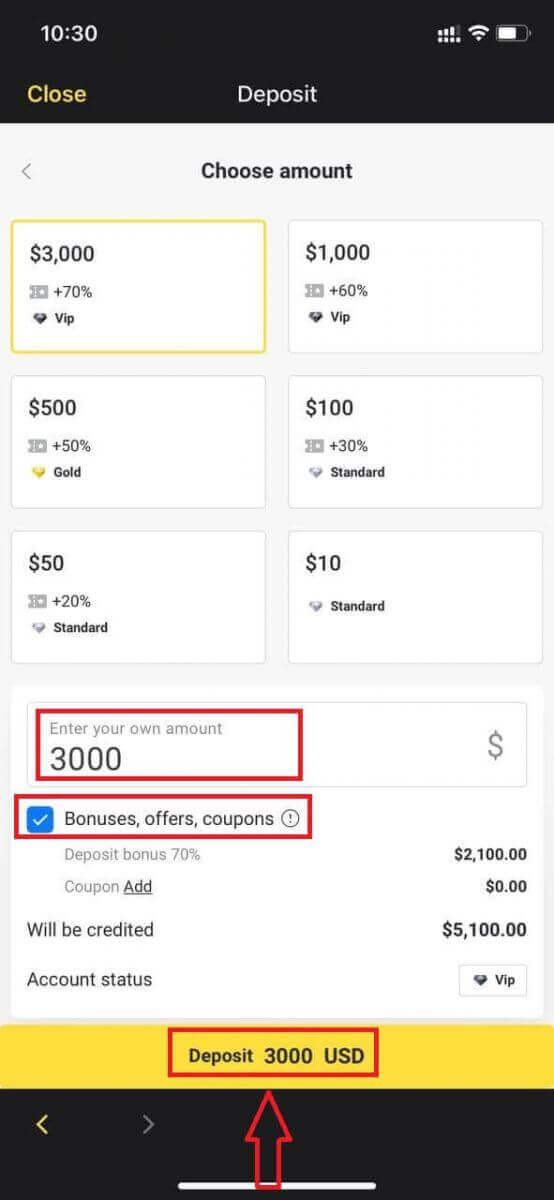 Then enter your information and finish your depositing.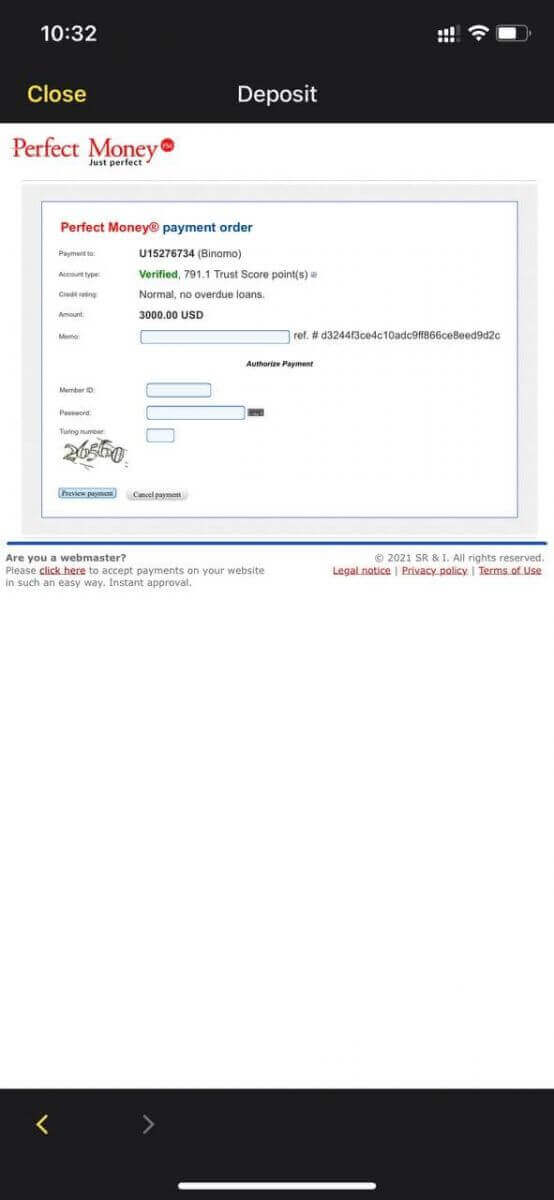 Trading on Binomo iOS app
When you trade, you decide whether the price of an asset will go up or down and get additional profit if your forecast is correct.
To open a trade, follow these steps:
1.
Select an account type.
If your goal is to practice trading with virtual funds, choose a
demo account
. If you're ready to trade with
real funds
, choose a
real account
.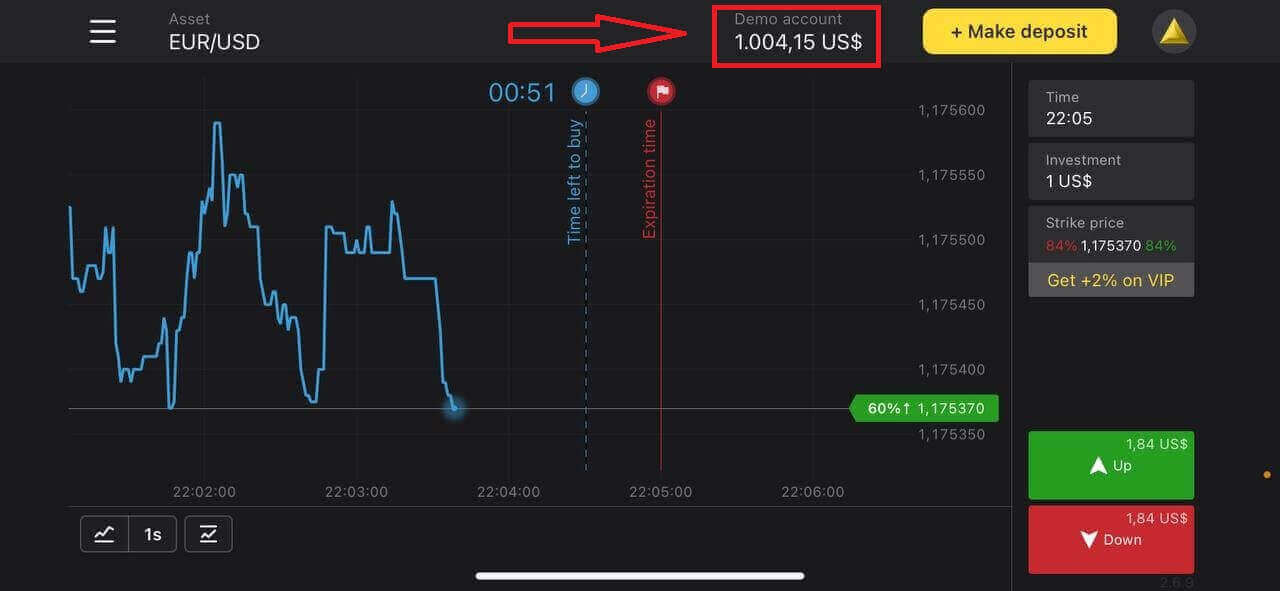 2.
Select an asset.
The percentage next to the asset determines its profitability. The higher the percentage – the higher your profit in case of success.
Example.
If a $10 trade with a profitability of 80% closes with a positive outcome, $18 will be credited to your balance. $10 is your investment, and $8 is a profit.
Some asset's profitability may vary depending on the expiration time of a trade and throughout the day depending on the market situation.
All trades close with the profitability that was indicated when they were opened.  
Please note that the income rate depends on the trading time (short – under 5 minutes or long – over 15 minutes).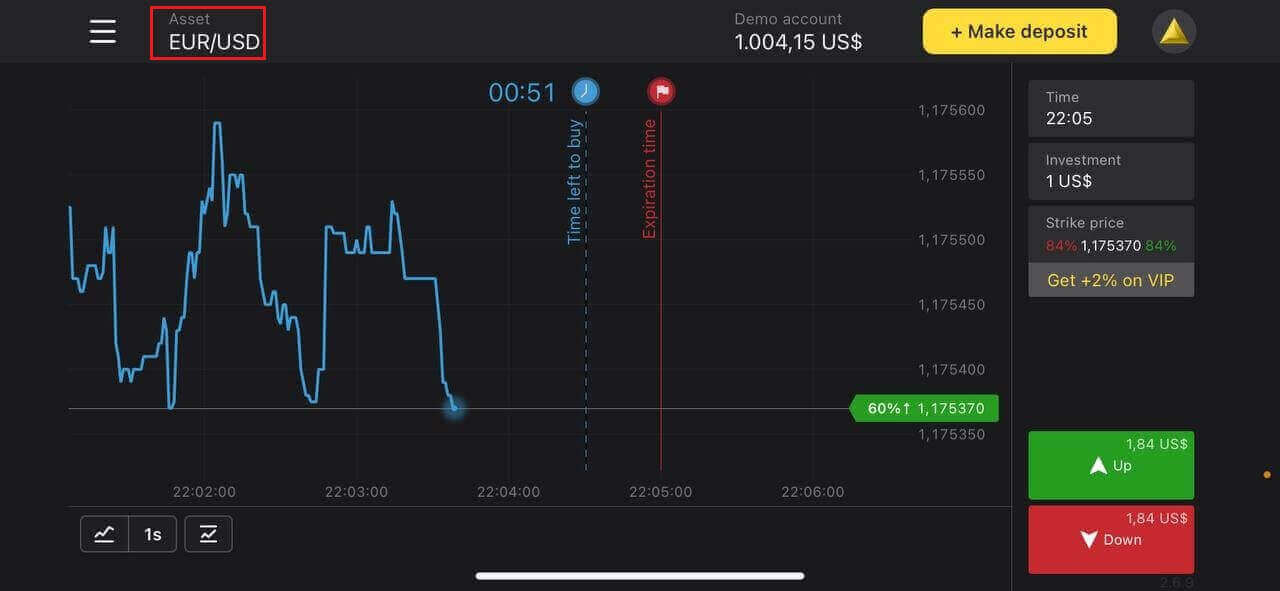 3.
Set the amount you're going to invest.
The minimum amount for a trade is $1, the maximum – $1000, or an equivalent in your account currency. We recommend you start with small trades to test the market and get comfortable.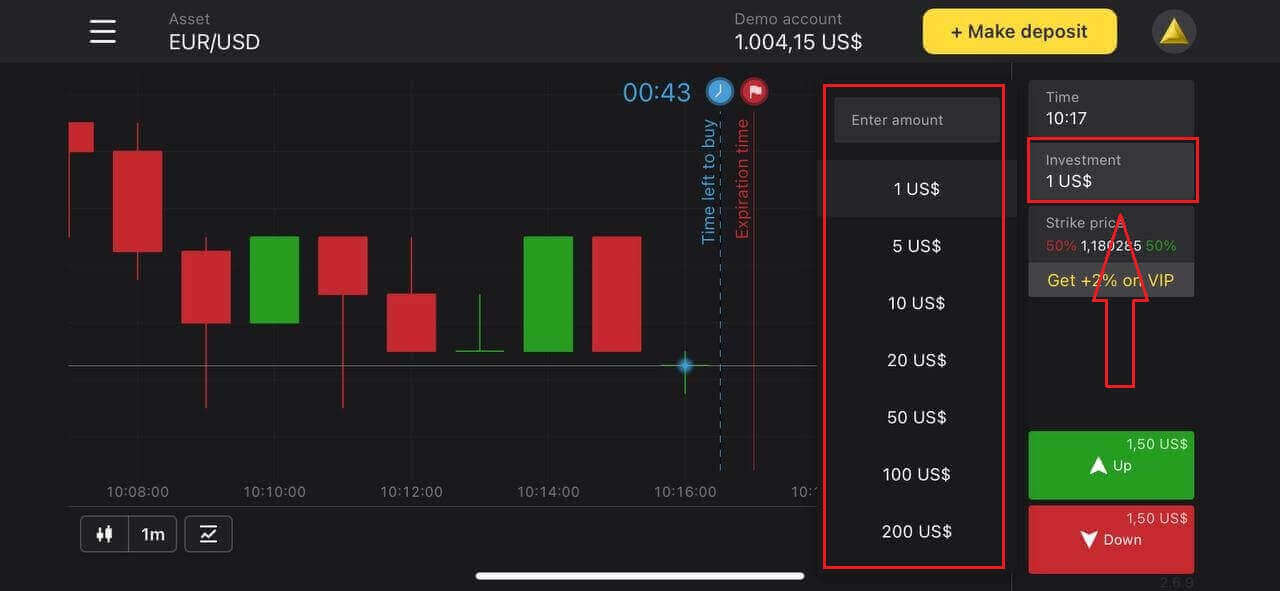 4.
Select an expiration time for a trade
Expiration time is the time to end the trade. There's a lot of expiration time for you to choose: 1 minute, 5 minutes, 15 minutes, etc. It is safer for you to begin with a 5-minute time period, and 1$ for each trading investment.
Please note that you choose the time the trade will close, not its duration.
Example
. If you chose 10:20 as your expiration time, the trade would close exactly at 10:20.
Also  there's a line that shows the purchase time for your trade. You should pay attention to this line. It lets you know if you can open another trade. And the red line marks the end of the trade. At that time, you know the trade can get additional money or can not get.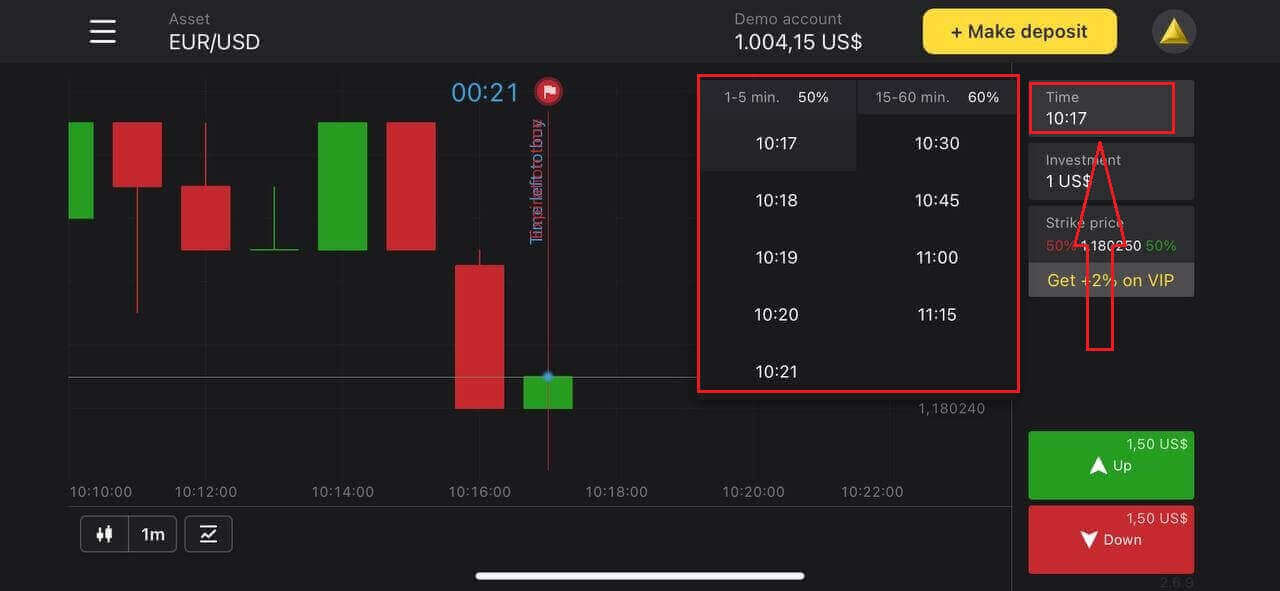 5.
Analyze the price movement on the chart and make your forecast.
Click on the green button if you think the price of an asset will go up, or the red button if you think it will go down.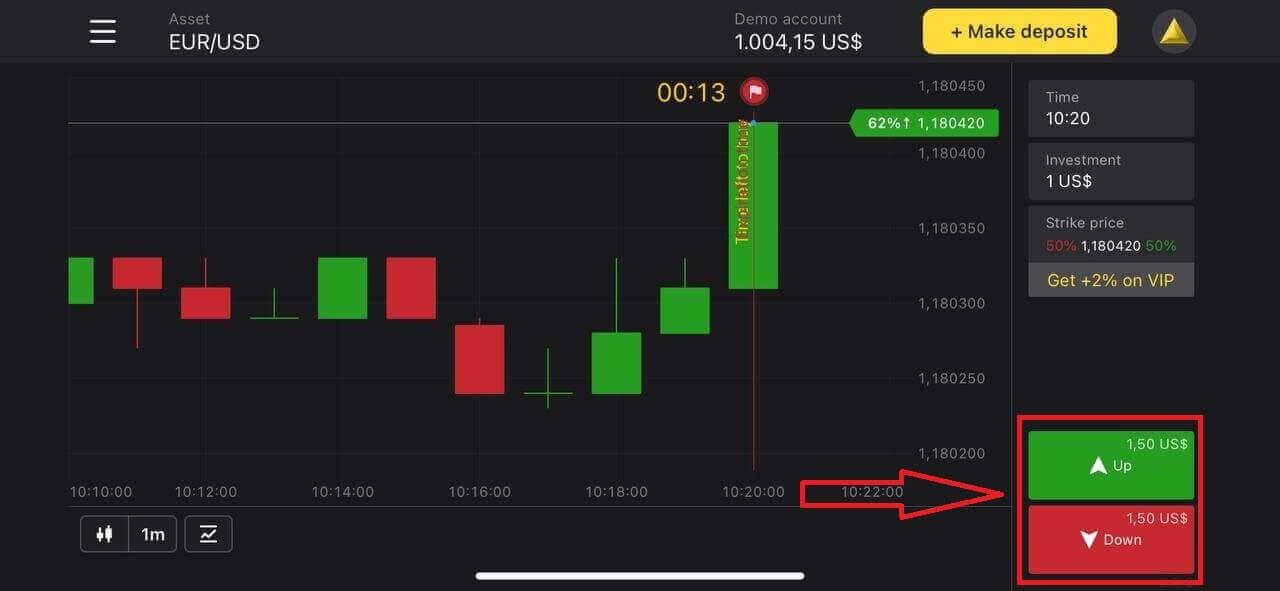 6.
Wait for the trade to close to find out whether your forecast was correct.
If it was, the amount of your investment plus the profit from the asset would be added to your balance. In case of a tie – when the opening price equals the closing price – only the initial investment would be returned to your balance. If your forecast was incorrect – the investment would not be returned.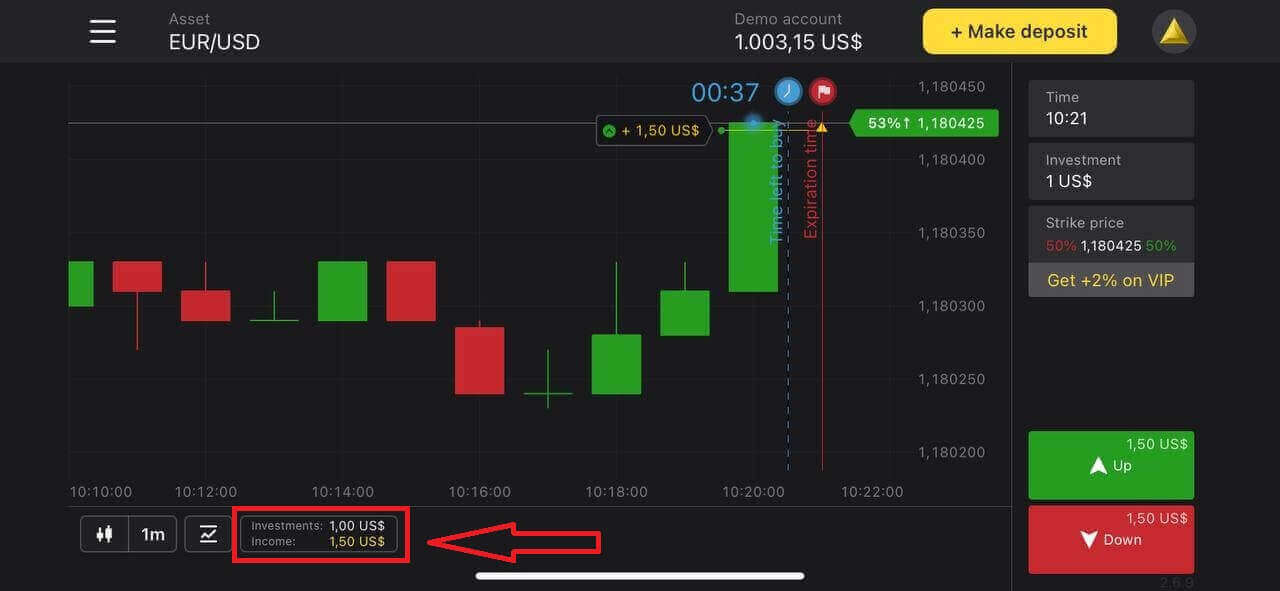 Withdrawal Funds from Binomo iOS app
Once you made a deposit, traded and made additional income, you can withdraw your funds. Please keep in mind, that you can withdraw funds only to the wallet or card which you used to make a deposit to your account.
Click "Menu" which is located on the top left corner of the screen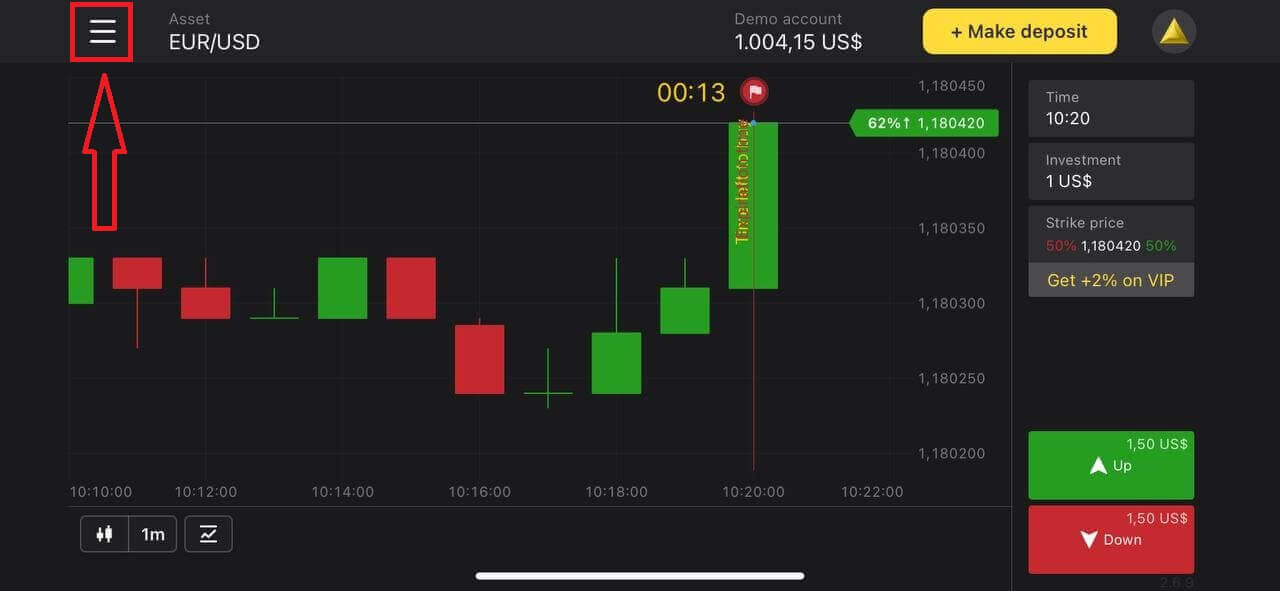 Go to Balance and click
"Withdraw funds"
It will redirect to the Withdrawal page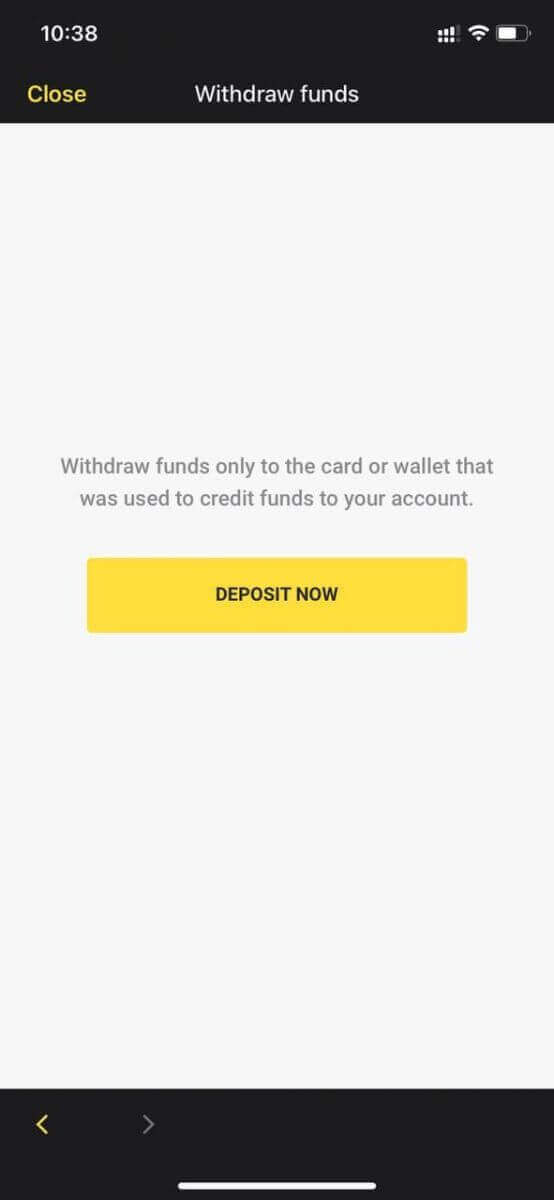 Pros of Binomo iOS App
Create your own achievement story with the Binomo trading platform, designed to enable you to trade at any time and from anywhere in the world.
Binomo is a convenient tool for trading the most popular assets: currency pairs, like EUR/USD, GBP/USD, and many others, the equities of leading companies, and goods.
Millions of traders choose us because we have made the trading platform accessible to anyone: the
minimum deposit is only $10 and the minimum trade is $1.
For those who are just starting their journey in trading or those who want to improve their skills, we offer a
free demo account
with unlimited virtual funds.
You can instantly fund your account balance and withdraw the funds youve traded with within 24 hours.
Our qualified support service will answer any question via email or online chat.
Free training on the platform is at your disposal – video lessons, trading strategies, and an extensive knowledge base.
Traders with the VIP status are offered a personal manager.
Receive bonuses, join promotions and tournaments, and take advantage of special offers.



Conclusion
In conclusion, it is worth to point out, that with the help of Binomo mobile version a trader can trade from his smartphone or tablet in any place even far from his home. Nowadays, the mobile application of Binomo's can be called a leader among other companies.